ABOUT JULIENNE
For as long as she can remember, Julienne Hadfield has had a passion for jewelry and she has been involved with art for most of her life, so it only made sense to combine the two and make it a career. With a fine arts degree from Fort Lewis College, Julienne designs jewelry that is literally a mode of artistic expression.
Julienne meticulously sketches the wearable art on paper before masterfully bringing it to life using glass beads, a needle, thread and leather backing. The colorful glass beads originate from the Czech Republic, Italy, Germany and Austria to create her artistry inspired by nature. As a Certified New Mexico True Artist, Julienne specializes in custom jewelry design –including colorful beaded brooches, necklaces, earrings and bracelets– that is uniquely southwestern, with a hint of boho chic, while at the same time donning a country western flair. Her jewelry is worn by top name celebrities, musicians, and owned by collectors.
Today, her product is available at forty-five retailers throughout the U.S. and abroad as well as in her own store in Old Mesilla, Julienne Jewelry, since the early 1990s. It is one of the few stores where customers can meet the artist and Julienne will even make custom-made jewelry to go with your personal style. At Julienne Jewelry, her creations are accompanied by a vast collection of handcrafted artistry by other talented designers from around the nation like studded leather boots, purses, hats, shoes, one-of-a-kind clothing and even local artist's paintings and photography.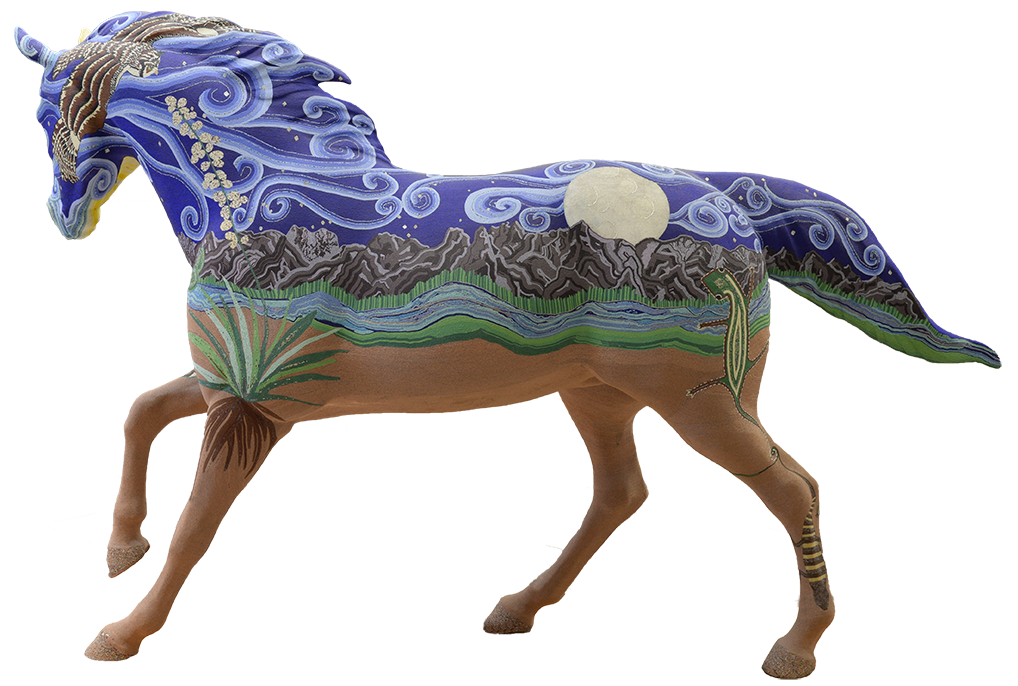 One of Julienne Jewelry most gratifying and notable art pieces is the Caballo de Las Cruces, or the Horse of Las Cruces. The life-size Plexiglas horse is stunningly decorated with over two million tiny, multi-colored glass beads featuring the Organ Mountains and the Rio Grande. It took two years to complete with the help of over one hundred volunteers. Her design was selected from over fifty other submissions received by the Doña Ana Arts Council as part of the Trail of Painted Ponies, a New Mexico public art project. The beaded horse was an inspiring community project and is now displayed at the Doña Ana County Building; it is currently for sale.